Sambucol Black Elderberry Original Formula 24 capsules x 2 Boxes [ TWIN ] EXP:04/2025 [ Runny nose, Cough, Sneezing, Nasal congestion, Sore thorat ]
Price

RM99.50

RM129.35

Product SKU
9556991951988
Brand
Sambucol
Size (L x W x H)
12 cm x 8 cm x 8 cm
Availability
In Stock
Shipping Fee
Quantity
Description
Highlight
Runny nose
Cough, Sneezing
Nasal congestion
Sore thorat
Fatique
Black Elderberry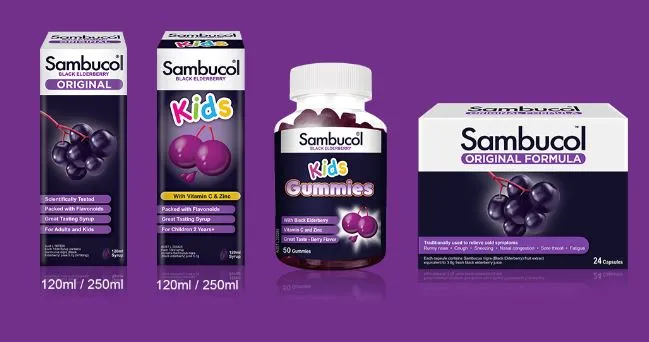 Australia's No.1 Choice for Cold & Flu Protection and Prevention
Being the most researched natural remedy for cold and flu, black elderberry (Sambucus nigra) extract is scientifically proven to speed up recovery from influenza, reduce the severity of cold and flu symptoms and fight viruses such as H5N1, Influenza A and B by boosting and strengthening an individual's immune system.
How Sambucol Works?
Influenza Viruses replicate themselves by entering cells membrane and spread throughout the body. Sambucol with its unique Antivirin® mode of action help prevent the initial viral infection through 3 actions:
"Direct Inhibition"
Flavonoids from elderberries inhibits the virus's ability from entering into the healthy cells.
"Indirect Inhibition"
Lectins from elderberries binds with sialic acids found on the membrane surface of healthy cells to protect them against Influenza virus.
"Immuno-stimulation"
Pectic polysaccharides from elderberries stimulate the body's natural defense mechanisms and increase the cytokine production, which plays a key role in the immune response to viral invasion.
Reviews (0)
view all
back
What's in the box
Sambucol Black Elderberry Original Formula 24 capsules x 2 Boxes [ TWIN ]